Imagine the most recent time you purchased new software. What influenced your decision to buy?
If you're like 96% of people, you probably watched a video to learn more about the software, and decide whether it was worth booking a call. (according to Wyzowl).
Just like you, most buyers are watching videos when considering new software, which makes videos a key marketing tool for SaaS companies.
And when it comes to marketing videos, nothing beats the power of an explainer video.
In this blog post, I'll show you:
What explainer videos are
Best practices to create them.
Awesome examples of software explainer videos from different industries.
Let's get started!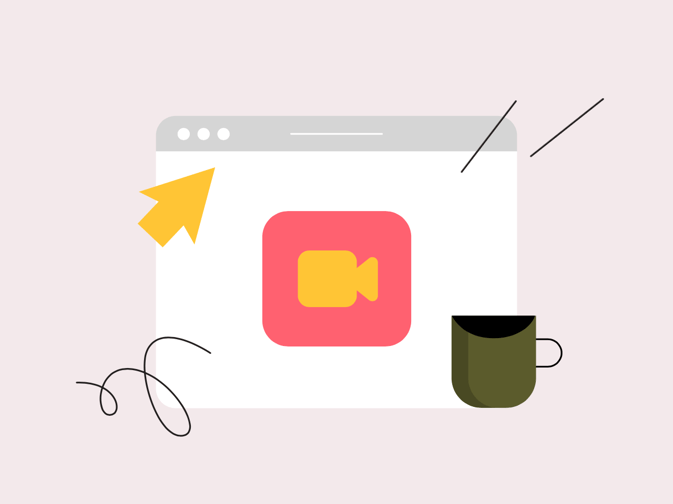 What is an Explainer Video?
An explainer video is a short and informative video that shows how your product can address and solve your customers' problems.
It is an effective way to introduce complex products to potential customers.
It's usually placed on top of product websites or pinned in social media pages. Considering the buyer's journey, it fits in the Awareness or Consideration stages.
Benefits of Explainer Videos
An effective explainer video will:
Connect with your audience on a deeper level by addressing their challenges
Introduce your product at a high level
Drive action with a strong call to action
How to create an explainer video?
If you have a complex product, making a simple explainer video may seem overwhelming... Which features should you highlight?
Here's some tips to help you create an effective and engaging video.
Explainer Video Best Practices
Keep it simple: Aim for less than 90 seconds, as anything longer can bore or confuse your viewers. Stick to the problem your product solves and highlighting the benefits of using it, saving the nitty-gritty details for later. You can always link to additional resources for those customers who want to learn more about the product.
Focus on benefits: Don't lis the features of your product, that's the role of a product page or whitepaper. Instead, tell a story about how your those features help your customers win the day. Ask yourself: Would a relative understand your product after reading the script?
End with a strong call to action: Tell your viewers what you want them to do next. Purchase, sign up for a free trial, or fill out a form are great ways to keep the viewers advancing through your marketing funnel.
Now that you have those tips in mind, I want to show you the different steps to create your explainer video:
Define your goal and audience: This is the most important step, because if the message doesn't connect with your target audience, then they won't watch the video at all. If you already have a website in place, you should align it with the website's audience (or wherever you're planning on hosting it)
Choose a style: Will your video come to life through animation, real actors, or a mix of both? There's no right or wrong decision, both make great types of videos! Look in the library below to get an idea on what they look like. Most importantly, the tone and mood you want to portray to your audience.

Write a script:

Write a clear script that covers the main points of your story, such as the problem, the product, the benefits, and the call to action. We recommend using the

Storybrand framework to begin writing your script.
Create a storyboard: Sketch out the scenes you'll need to record, along with any screen recordings or product features that you want to highlight. This will make it easy to plan for the shooting or animation stage.
Record a voiceover: Hire a professional voice actor or record your own voice to narrate your script (if needed).
Animate or film your video: Bring your storyboards to life. Make sure you select your locations accordingly and get all the equipment and props to shoot your video, or software if you're using animation. .
Edit and polish your video: Add music and the voiceover. Review your video and make any adjustments or improvements as needed!
Hit the upload button. Wohoo! 🥳
Depending on the story you want to tell, each step of the process can get more or less complicated. We'll be putting together a more in-depth guide on how each step of the process works, so stay tuned!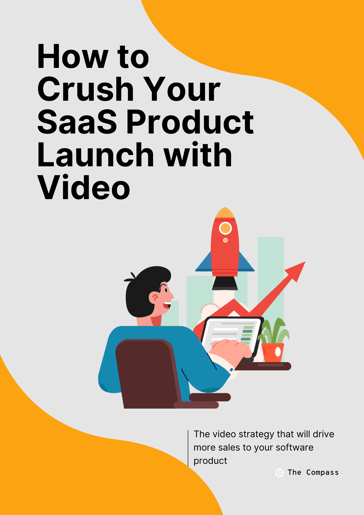 [Free] Crush Your Next Product Launch with Video
Learn a simple strategy to an effective launch with video.
Download the Free Guide
What Makes a Great Explainer Video?
When writing your explainer video, keep this checklist handy. You'll create a solid story that will connect with your viewers.
A hook: You only have a few seconds to grab the attention of your viewers and to make them keep watching. That's the role of the hook. It can be a question, a problem, a statistic, a story, or anything that sparks curiosity and kickstarts the story.

A problem: A problem is the pain point or challenge that your customers are facing, and that your product can solve. It can be internal (feeling lonely), external (filling out paperwork), or theoretical (an injustice). It should be relatable and relevant to your audience.

A solution: The solution is your product that offers a unique and effective way to solve the problem. It should highlight your value proposition and how your audience will feel once they solve their problem.

A proof: A proof is the evidence or reason that supports your solution. It can be facts, figures, testimonials, examples, or stories.

A call to action: A call to action is the final step that you want your viewers to take after watching your video. It can be downloading your product, signing up for a free trial, contacting you for more information, or anything else that leads them closer to becoming your customers.
Awesome
Examples of
Software Explainer Videos
To get your creative juices flowing, here are a few of my favorite explainer videos that turn complex software into an engaging story.
I've curated them to ensure that they all follow the best practices we covered earlier.
You can easily filter them by brand, industry and duration, using the "Filter" button.
Click on each card to watch the videos.
Enjoy! 😄
Got any questions or are there any videos that I missed? Let me know in the chat!
Frequently Asked Questions - Explainer Video
What is an explainer video?
An explainer video shows customers the benefits of purchasing your product and how it can solve their problems. It focuses on clarity and trust, rather than hype and excitement like a promo video.
What are explainer videos good for?
Introducing your products to potential customers. Explaining your product's value proposition. Addressing any objections or questions from your customers.
Are explainer videos still effective?
Yes, explainer videos are still effective in 2023, as they can help you:Increase your conversion rates: According to Wyzowl, 84% of people say that they've been convinced to buy a product or service by watching a brand's video.Boost your SEO ranking: According to by Backlink.io, videos can increase organic search traffic by 157%, as they can increase dwell time, click-through rate, and social shares.Enhance your brand awareness: According to Animoto, 93% of brands say that they've gotten a new customer because of a video on social media.
Why do people like explainer videos?
People love explainer videos because they are:Easy to consume: Explainer videos deliver complex information in a simple and digestible way. They're a time saving tool for viewers.Persuasive and memorable: Explainer videos can appeal to both logic and emotion, using facts, examples, quotes, and stories to convince the viewers to take action.
Is an explainer video the same as a demo video?
No, an explainer video isn't the same as a demo video. A demo video is all about showing off how your product works with all the nitty-gritty details about the features and functions.A demo video tends to be longer than an explainer video, and works better for customers who are already interested in your product and want to dive deeper.On the other hand, an explainer video is all about telling customers why your product is great. It focuses in telling a broader story. An explainer video is generally shorter than a demo video and is perfect for customers who aren't familiar with your product and want to get the highlights.
What are the different types of explainer videos?
There are different types of explainer videos that you can choose from depending on your goal, audience, budget, and preference. Some of the most common types are:Animated explainer videos: These videos use animation to show your product or service. They can be 2D or 3D animation, whiteboard animation, or cartoon animation. They are great for explaining abstract concepts or making the UI friendlier.Live action explainer videos: These are videos that use real people or objects to demonstrate your product or service. They can be filmed with actors, customers, employees, or influencers. They are great for showing the human side of your brand or product.Screencast explainer videos: These are videos that use screen recordings to show how your software or app works. They can be accompanied by voiceover or text to explain the steps or features. They are great for showing the functionality and usability of your product.
How long does it take to make a 1 minute explainer video?
Creating a 1 minute explainer video requires a bit of patience as it involves various factors like the complexity of your product, the quality of your script, the style of your video, the skills of your team, and the feedback and revisions you need.On average, it can take around 4 to 6 weeks to bring your 1 minute explainer video to life.
How long should an explainer video be?
There's no hard and fast rule on how long your explainer video should be. It all depends on your goals, audience, product, and platform. But here's a general rule of thumb: make it as short as possible.According to Wistia, the sweet spot for an explainer video is between 30 seconds and 2 minutes. Anything longer than that might make people leave. So, keep it simple and captivating!
Who needs explainer videos?
Explainer videos are suitable for any business or organization that wants to`:Introduce their product or service to their potential customersExplain their product's value proposition and unique selling pointDrive action with a strong call to actionSome examples of industries or niches that can benefit from explainer videos are:Software or technologyEducation or e-learningHealth or wellnessFinance or bankingTravel or tourismEntertainment or gamingFashion or beauty
Bonus: Who makes the best explainer videos?
There are many options for making explainer videos, such as:
DIY: You can make your own explainer video using software or tools that are available online. This option is cheaper and faster, but it requires more time from you, and it might not have the best quality.

Hire a freelancer: You can hire a freelancer who specializes in explainer videos from platforms like Upwork or Fiverr. This option is more affordable and flexible, but they may not be fully reliable.

Hire an agency: You can hire an agency that has a team of experts in explainer videos. This option is more expensive and longer, but it has the best quality and results.
Partner Resources - Explainer Videos
Looking for more inspiration? Check out some resources from our partners at DesignRush: https://www.designrush.com/best-designs/video/trends/best-explainer-videos
The Takeaway
Explainer videos are a key asset to help customers buy from you.
By following these best practices and examples, you'll create videos that increase your conversions and sales.
If you need any help with creating software explainer videos for your business, feel free to contact us at The Compass Video. We specialize in creating software explainer videos that gives you results.
Don't forget to subscribe for more video production and marketing tips! 😄