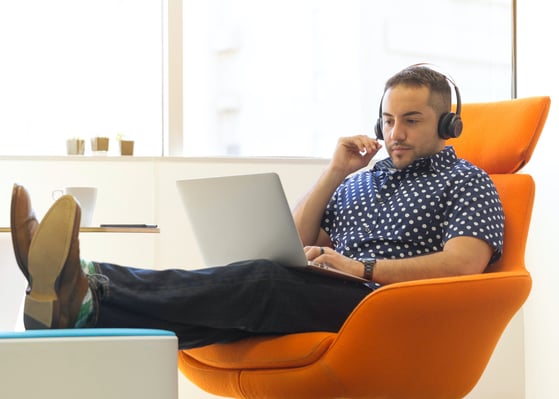 Credit: Pexels.com
The sales world is going virtual.
According to Gartner, customers who are looking for a product only spend 17% of their time talking to sales reps. And by 2025, 80% of B2B sales interactions will be virtual.
With virtual channels becoming predominant, sales teams need to adapt their strategies and leverage tools to engage their buyers, especially when they're not face to face.
The Case for Video
Many sales teams are utilizing video to provide information to their prospects at the right time, and continue to build relationships even when they're not face to face. Video is a digital first tool that enables sellers to reach and engage decision makers across multiple channels.
According to Vidyard, 72% of sales teams that use video in their sales pipeline have seen an increase in response rates, and 53% of them have also seen an increase in close rates.
If you've never created a video before, at first it can seem very time consuming and intimidating (especially since your prospects will watch it). Do it wrong, and you'll likely make a bad impression. But if you do it right, you'll be able to engage with your prospects, shorten sales cycles, and be more productive.
Here's what you need to know:
Video is not only for social media: Although short, punchy promo videos are all over social media, they represent only one of videos' many use cases. Video is a powerful communication tool, and should be used to provide information and add a personal touch when interacting with your customers.

Video can be used at any point along the sales cycle:

For prospecting: When you're engaging with a cold prospect, instead of sending a them a generic, text only email, you can send them a personalized, attention grabbing video to pique their interest and stand out from your competitors. Some best practices include:

Make sure it feels authentic, let your personality come across.

Keep it short, around 30-45s. This is important if they've never heard of you before.

The copy on your email should encourage them to click play. In the video you can include a more direct CTA.

For meetings: You can send a reminder video to your prospects about an upcoming meeting, explaining them what to expect and the value they'll get from attending.

After the meeting is over, send them a 2 min recap of the main takeaways, which they can watch again at their own time, or share with other team members too.

Demos: You can record demos of your products' most popular features, bring them up at a meeting when your prospect asks for it. Or if they asked for further information, you can send the demos through email.

Proposals: We know it's very difficult to find a time when all decision makers are available for a meeting. However, it is very important that all of them understand your proposal. While you can definitely record the awesome 20 min presentation that you gave at the meeting, if the stakeholders were busy to attend your meeting, they probably won't watch it either. Instead, you should send them a short walkthrough of your proposal. That way you'll be able to provide the information you want them to hear in a more snackable way.

Video does take time to create, but it increases your team's performance.

When done right, video interactions generate higher response rates and closed deals, making it an efficient tool to have in your kit. You probably won't be reaching out to as many prospects, but your efforts will be more effective.

If your team is not motivated to use videos, you can turn it into a team activity. Educate your co-workers about the benefits of using video in their process, and encourage them to start sending videos internally as a way to practice. For example, you can send meeting recaps to your teammates, while they gain enough confidence to use them with prospects.

Look for inspiration from other brands, and establish a roadmap for implementing video in your strategy, like you would with any other software.

Videos don't need to look expensive or use fancy transitions.

Unlike the flashy videos that we see in social media, video in sales must aim to develop a relationship with your customers, so the videos you create should feel authentic and let your personality shine.

These days, it really doesn't matter what camera you're using, but always make sure that your audio is clean. No one wants to hear your background noise.

Videos and emails are best friends.

According to Bonjoro.com, using the word "video" in sales emails leads to increase open rates versus not using it.

When embedding video in an email, use a compelling thumbnail that grabs your prospects' attention. You could feature their website or show something that piques their interest.

Make sure the email copy encourages them to click on the video.

Unlike images, you can't directly attach a video to an email (and it wouldn't be ideal). Instead use 3rd party hosting services like Vidyard, Vimeo or Wistia that allow you to embed the video with a thumbnail, and track the engagement and watch time of your videos.
The Takeaway
As more B2B interactions shift to the digital space, buyers will prefer self-serving experiences and spend less time talking with sales teams.
To meet prospects in these digital channels, your team needs to leverage digital first tools that allow them to communicate and build relationships, even when they're not talking face to face.
When used right, videos can help you scale your messaging in a personalised way, and making your sales process more efficient.
Here are some best practices you should know to use video as a powerful sales tool.
Video is not only for social media
You can use video at any point along the sales cycle:
Video does take time to create, but it increases your team's performance
You don't need a big budget or fancy transitions
Videos and emails are best friends.
I hope you're excited about starting to implement videos in your sales process. If you have any questions, feel free to always reach out through the
Contact Us
page.
Got any ideas that you think might be helpful for future blogs? Please share them with us and
subscribe to the blog
for more weekly content.
Until next time. Happy filming.
Oscar