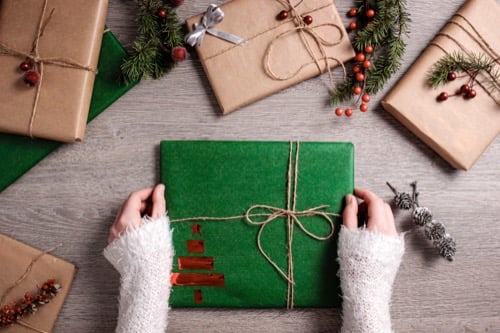 Credits: Pexels.com.
The end of the year is approaching quickly. 🎄☃️
For you and your team, this could be a time to slow down and be immersed in the festivities, or it could actually be the busiest time of the year, since millions of buyers' flock to physical and virtual shops, looking for holiday gifts.
However, no matter your workload, this is as a great opportunity to end the year on a positive note and provide a memorable experience to your co-workers and customers.

If your workload is dwindling, you can use this time to help spread the holiday cheer to your co-workers and customers.
If your industry is crazy busy, you should be looking to stand out and help your customers navigate the holiday shopping chaos. Who knows, your product may be exactly what they're looking for!
A great way to accomplish these goals is through video content. Videos are especially important during the holidays because:
Websites receive 63% more visits during the holidays. By having videos on your site, you'll be retaining the attention of those new visitors, and encourage them to discover your products.

68% of holiday shoppers visit Youtube to determine what to buy.
So if you've thought before about implementing video in your marketing strategy, now it's a great time to start!
However, choosing what videos to create can be quite difficult. So to make the process easier for you, we've compiled 6 video ideas for the holiday season that you can start creating today, no matter which industry you're in!
Holiday Greeting videos
Holidays mean that (hopefully) everyone is in a happy, festive mood. So why not take advantage of this and encourage your team to make something fun?
If it's been a busy year, this can be a great opportunity to have fun together and give a special message to your customers (or even internally!). It will boost your brand awareness and provide a delightful moment that your customers will remember.
You can even have your company's character as a protagonist, bringing some humour to the video.
In this video, for example, EF employees worked together in creating a delightful moment for their co-workers and customers. The result? A true masterpiece.
Holiday "How To" videos
Holiday joy aside, for many of your customers this could be a stressful time. The Holidays represent a time to catch up with family, and we can feel an increasing pressure to make a good impression (especially if we're hosting), whether it's through finding the perfect gift, delighting them with a delicious dinner, or finally being able to tell our grandparents that we found a significant other 😁.
By creating holiday specific "how-to" videos, you can help your customers be the hero for their families.
In this video, home improvement company Lowe's teaches us how to light a Christmas tree like a pro.
Thank you videos
For many people, this season also represents a time to be thankful about the past year. You can use video to communicate this feeling to your customers and co-workers. Team managers can send personalized video messages, thanking members for their hard work, and customer facing employees can send videos to their customers. This will definitely help spread the joy, and make the day for the viewers.
Volunteering videos
If your team is doing fundraisers, charity runs, or other types of volunteering efforts, a video could be a great way to bring awareness and drive more support to your cause. Just remember to not push for a sale.
Social media videos
You're already decorating your home, your working space, and probably even your zoom background. Why not take that same spirit virtually and also decorate your company's social media?
With tools like Vimeo or Canva, you can easily create videos that commemorate moments from this past year at your company, making it enjoyable for both co-workers and potential prospects.
For example, using Vimeo, I was able to create a quick video in less than 15 mins for social media.
Holiday sale:
If you're planning on having a holiday sale, you can start teasing your audience days before to build excitement. Many brands use a countdown, or "12 days of deals", in which each day they host a mini sale, until the big sale arrives. You can use videos to communicate these mini deals, and make them get excited for your products.
Partner Resource - Video Ideas
Check these additional ideas from our partners at DesignRush: https://www.designrush.com/best-designs/video/trends/best-new-year-video-designs
The Takeaway
The holiday season provides a great opportunity to connect on a more emotional level with your audience.
Whether you're looking to have some fun with your team, or promote an end of the year sale, the right type of videos will drive visibility for your brand and get customers thinking about you.
And remember to have fun and end the year strong. 🙂
---
I hope you're excited about implementing videos in for the holidays. If you have any questions, feel free to always reach out through the
Contact Us
page.
Got any ideas that you think might be helpful for future blogs? Please share them with us and
subscribe to the blog
for more weekly content.
Wishing you happy holidays.
Oscar